Few names are better known in the world of fashion than that of German-born designer Karl Lagerfeld. For over 70 years, he rocked the fashion world with his bold creativity and iconic style. Who can forget his trademark white hair, high-collared shirts and fingerless leather gloves? The KARL LAGERFELD label – which includes the luxury kidswear collection, KARL LAGERFELD KIDS – sees fashion as an attitude rather than simply a way of dressing. Sophisticated, timelessly Parisian, and served up with an added touch of rock-chic flair, his clothing collection continues to make a statement today. Keep reading to learn more about this influential and iconic brand.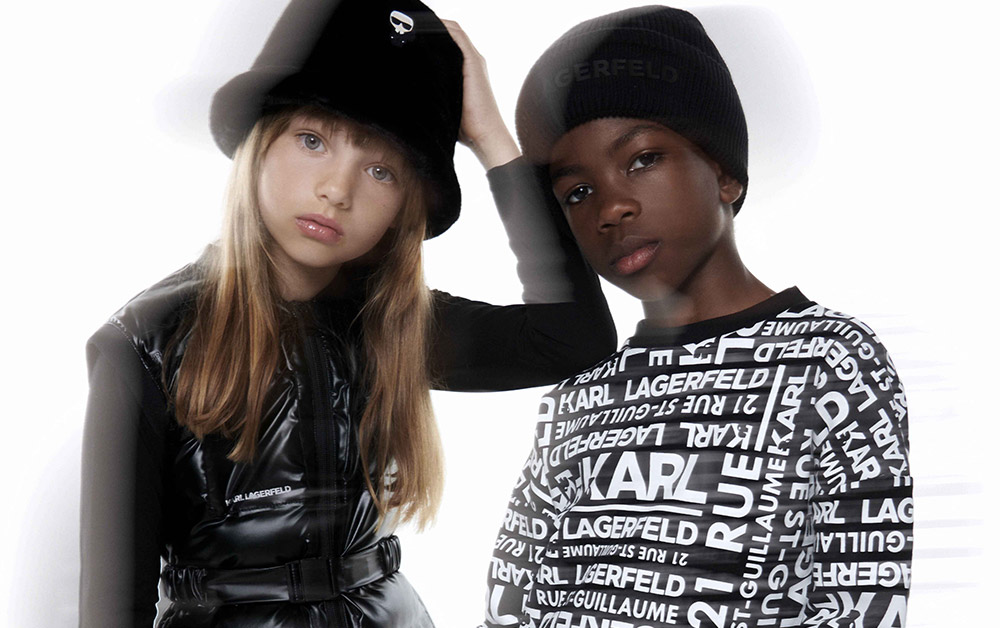 The KARL LAGERFELD story
Born in Germany in 1933, Lagerfeld moved to Paris in 1952 and became an assistant to Pierre Balmain. Working between France, Italy, England and Germany, he started designing for fashion company Chloé in 1964 and began work with Italian fashion house Fendi in 1965. By 1983, Lagerfeld had become creative director of the house of Chanel, and his creative collaboration with Fendi and Chanel continued throughout his life. He was beloved in the industry, which adored his show-stopping designs, so 1984 felt like the right time to launch his namesake fashion house, KARL LAGERFELD. Initially focused on aspirational ready-to-wear clothing and bag collections for men and women, he soon extended his portfolio with fashion jewellery, watches, footwear, eyewear, perfumes and candles. As well as wearing his brand, the fashion elite wanted his designs for their children, and in response, 2015 saw him launch his first KARL LAGERFELD kidswear collection.
His muses
Many of the world's most stylish and beautiful women have queued up to wear Lagerfeld's designs. His muses – from models like Kate Moss, Cara Delevingne and Kendall Jenner to stars like Florence Welch, Miley Cyrus and Kristen Stewart – are credited with inspiring his creative vision and enabling his designs to keep evolving. The KARL LAGERFELD brand is synonymous with cutting-edge, inspirational design and remains as relevant and forward-thinking as it was at its inception.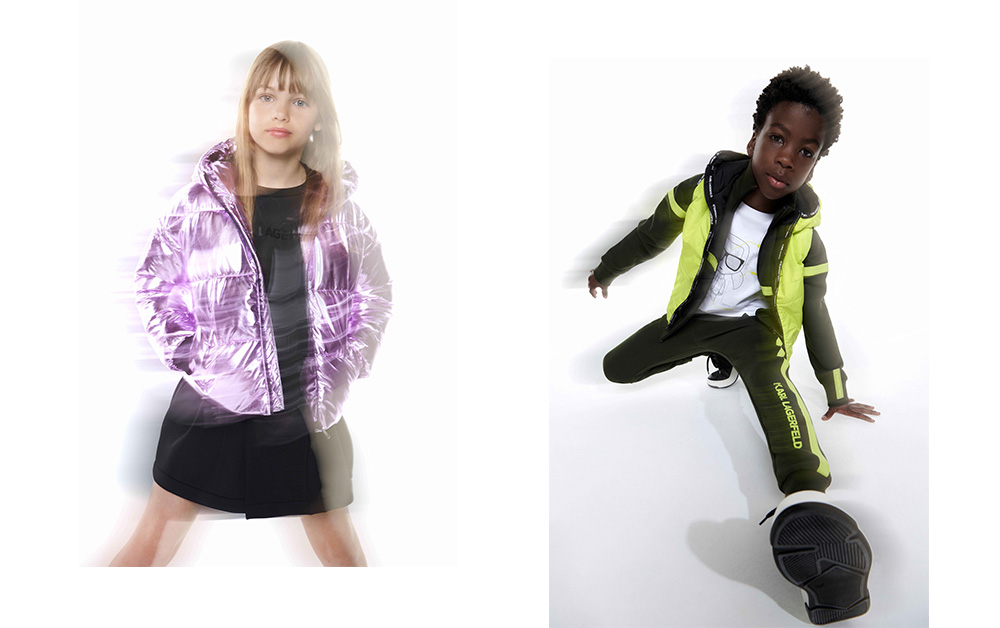 KARL LAGERFELD KIDS
KARL LAGERFELD's signature look for adults is classically Parisian, but with a contemporary, rock-chic edge – think global citizen, combining their urban lifestyle with eco-consciousness. This irreverent energy and quirkiness are carried over into the kidswear collection. Boys can choose from fun athleisure pieces and on-point separates that are smart, casual and cool, while the KARL LAGERFELD girls' range brings a bright, modern, fun approach to designer dressing. Available for boys and girls from one month to 16 years, these clothes are playful, combining bright monochrome with pops of colour. They manage to be effortlessly current, merging the feminine with the masculine and classic styles with athleisurewear. With motifs of his cheeky cat, Choupette – and even the designer himself – these pieces are sure to be ones your kids will adore wearing.
When they're wearing KARL LAGERFELD, kids will always feel cool. Help them make a positive fashion statement with KARL LAGERFELD KIDS!