Winter is here again, and it's time to get your little ones dressed up for the season. Cold, wet weather means you'll need to keep your younger children wrapped up as much as possible, but the best toddler outdoor clothing is just as stylish as it is practical. Compile your own designer outfits for little ones with these lovely pieces from our winter clothes selection.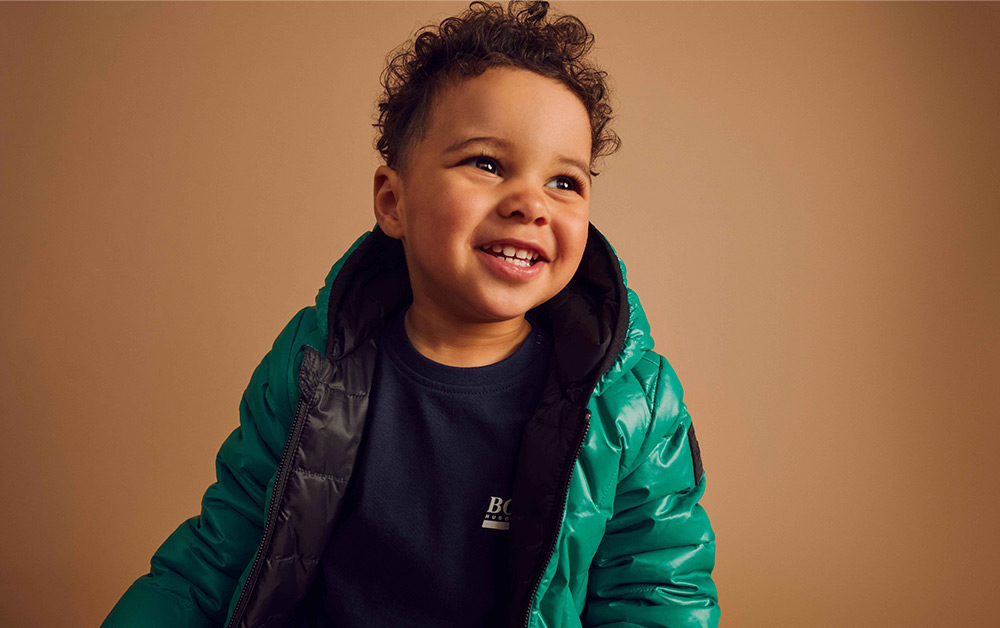 Toddler ski suit
When you're looking for toddler outdoor clothing, a winter coat is a great place to start. Whether you're taking your young family out to the slopes or just want to have that same cold weather protection while you're travelling to and from school, designer ski-wear for kids is hard to beat. Try a toddler ski suit made with the expert craftsmanship of one of our prestigious designers, including Hugo Boss and Paul Smith. This hooded bomber from DKNY is reversible, offering two unique styles in one coat, and its quilted cotton-wool padding will help your little ones stay toasty until the Spring.
Baby ski coat
Naturally, it's always the newest members of your family that need the most protection. And that's fine, because we have plenty of designer coats for babies, so you can let them enjoy their first few winters without being affected by the cold or the rain. And they'll look adorable when they're wearing them, as usual.
What's even warmer than a coat? This all-in-one Hugo Boss snowsuit for a baby has everything you could want for your youngest kids in the winter, including a faux-fur lining and a double zip for extra protection, plus a hood and clip-on booties and mittens. With the BOSS logo taking pride of place on the front, it's got style to spare, too.
Designer coats for kids
Designer children's winter coats have all the sophistication and practicality of the best high-end garments from adult collections, and we have pieces from some of the leading labels. When it comes to making your little girl look good, Billieblush is one brand that's always been ahead of the game. Check out their hooded raincoat if you want to introduce a little glamour into her early years – this piece has a sparkly design and an elegant bow effect on the zip. Its synthetic coating keeps the rain and snow away, while the fleece lining offers plenty of warmth and cosiness.
Toddler winter clothes
A coat is crucial at this time of year, but toddler outdoor clothing isn't all about jackets. You can layer up your little ones with a wide variety of toddler designer clothes, including beautiful tops, footwear and accessories from our designer brands. This navy BOSS sweatshirt can be worn indoors and outside, and it will jazz up any boy's outfit with its jacquard design and metallic logo plaque. He can finish off his look with this too-cool-for-school beanie from Karl Lagerfeld Kids, which is extra-thick for warmth and features a trendy logo patch on the front. Meanwhile, your little girl will love trudging through the winter streets in these cute snow boots from Kenzo Kids, with their snuggly faux-fur lining and pale pink colour.