In the blink of an eye, the festive season will be upon us. Everyone is getting excited, and children's Christmas jumpers just became the must-have item on your list. Making sure kids look the part takes a bit of thought, but helping them impress with their festive fashion is always worth the effort.
The perfect Christmas clothing helps children express their personalities at this time of year. Finding a jumper that keeps them toasty is crucial too when the temperature dips. Take a look at our top five Christmas jumper picks below... Each one is designed to add a dose of fun to this magical season.
Where the Christmas jumper tradition comes from
Ever wonder how Christmas jumpers became so popular? It all started with the distinctive hand-knitted sweaters worn by Scandinavian fishermen. When affluent dressers began wearing similar knitwear on the ski slopes, this eye-catching yet comfy essential quickly became associated with winter style.
Christmas jumpers first appeared in TV advertising in the 1960s, and many Hollywood celebrities, such as Ingrid Bergman and Clark Gable, helped popularise the trend. Before long, these bright, bold designs found their way onto the catwalks. Nowadays, every brand has a version of this seasonal fashion staple. Here are some favourites from our latest range...
1. Pretty pony
They don't come much cuter than this Billieblush knitted Christmas jumper. Not only does the design feature glitter-wrapped gifts, but there's also an adorable purple pony on the front. Any child sporting this jumper is sure to be the star when they enter a room. It's soft, snuggly, and super-stylish – your Christmas angel will love how it makes them feel.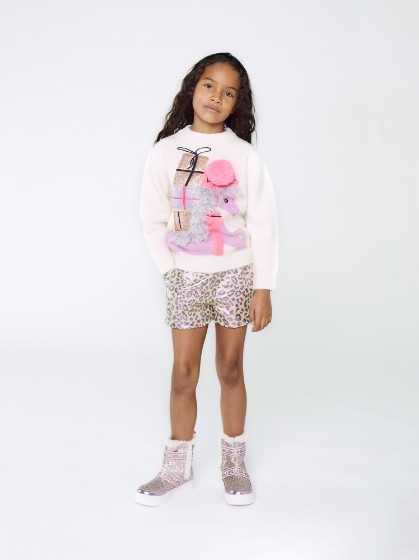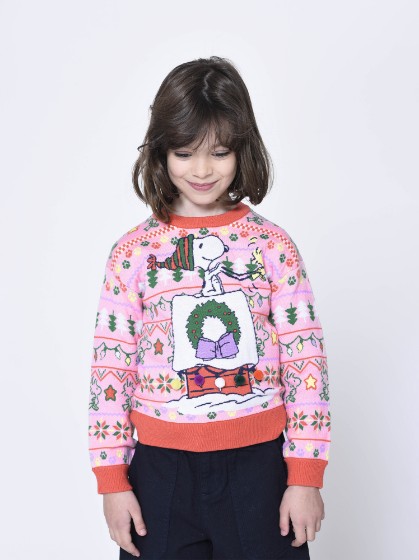 2. Puppy love
Any little one is bound to flip for this MARC JACOBS Snoopy Christmas jumper. The Peanuts gang characters have a long tradition with Christmas, and MARC JACOBS celebrates this with a jacquard print and stand-out design. There's even a pom-pom detail on the festive lights decorating the dog house. The cute gift bag, complete with ribbon and the MARC JACOBS logo, adds to its appeal.
3. Going Peanuts for Christmas
The Peanuts/MARC JACOBS collab isn't just about sparkly celebration either. The MARC JACOBS Snoopy Christmas jumper comes in navy and features a quirky graphic with the MARC JACOBS and Peanuts signature across the back showing the wearer is in the mood for festive fun.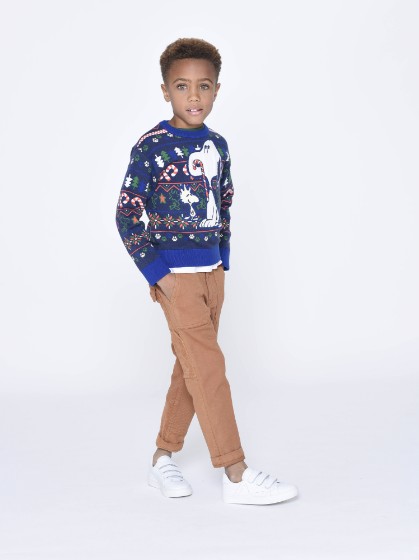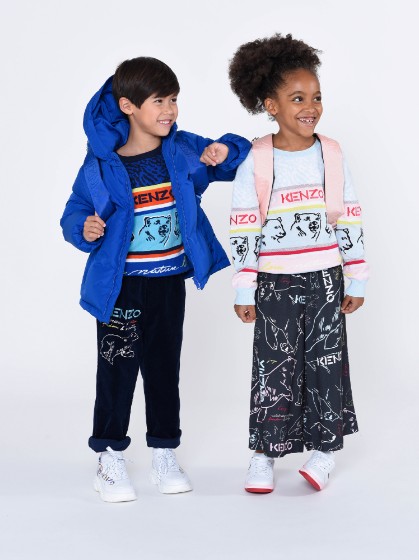 4. Bear hugs
A Christmas jumper needs a bold, bright design – making a children's KENZO jumper the perfect choice. This KENZO KIDS printed knitted jumper in bright blue has an eye-catching polar-bear head motif with a 'love nature' message running along the bottom. Perfect for any little explorer or environmental champion.
5. Merry and bright
An essential requirement for children's Xmas jumpers is the ability to make a statement. This Zadig & Voltaire turtleneck wool jumper does that in spades. Available in fuchsia, black, sand or stone, this is one warm jumper that's ultra-cool. The 'Rock & Roll' motif in bold lettering is sure to draw attention.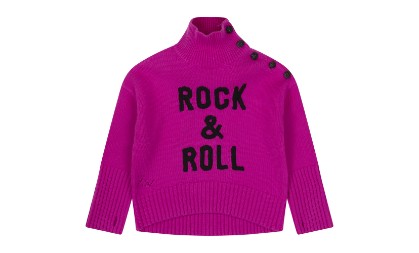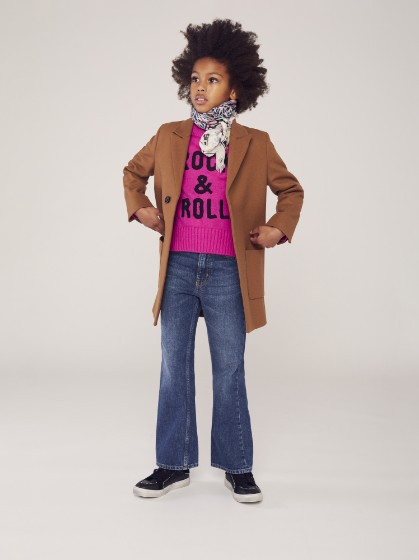 Now that you're inspired and armed with a list to start from, we hope you have a blast choosing the perfect yuletide pullover for your little elves. With so much choice, you can begin to make those Christmas wishes comes true!