The latest KENZO KIDS collection is full of bold, vivacious designs such as we've come to expect from this iconic brand, with a focus on florals and vibrant animal prints. Always centred on colour and decoration, the embroidered tiger face and branded lettering remain well-loved features across the range. Join us on this tour through the new KENZO collection and find inspiration for your little one's wardrobe.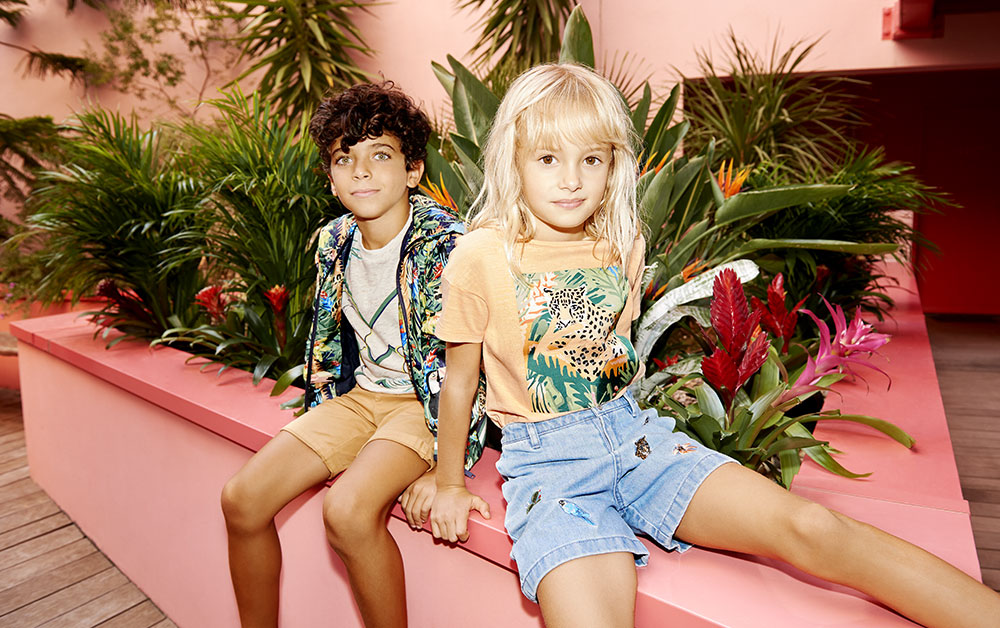 Lightweight tropical-print sweatshirt
The tropical print is a standout addition to the 2022 collection of stellar sweatshirts from KENZO KIDS. A joyful nod to Rio, this printed fleece sweatshirt beautifully incorporates the celebratory appeal of this brand. It features a fun and lively jungle print with fresh green colours and is embroidered with KENZO lettering across the chest. Kids will love the mix of tropical animals that adorn the sweatshirt including the tiger's new best friend, the parrot, coming straight from the KENZO Takada archives. The lightweight fleece material is contrasted with striped snug cuffs and hem for maximum comfort.
Printed denim shorts
With a mixture of materials including fleece, cotton and denim, KENZO KIDS shorts offer a mix of comfortable and lightweight textures for different modes of play. Denim shorts are an example of the urban styles the KENZO brand does so well, mixing fun optimistic prints with full freedom of movement. Ideal for city walks, these printed denim shorts for boys include an adjustable waistband with practical pockets at the front and back. The 'tiger and friends' print characterises the free global spirit of the brand and makes numerous appearances in the 2022 KENZO KIDS collection for boys.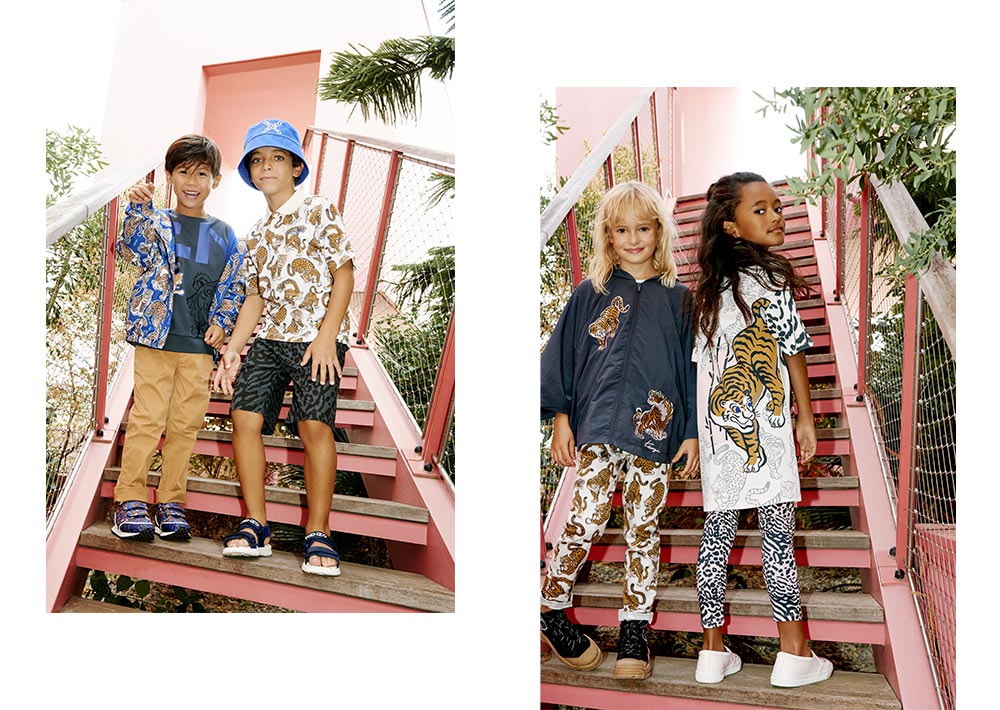 Lined poplin dress
This KENZO KIDS lined poplin dress is a colourful focal piece of the collection. Inspired by Japanese lotus flowers with its multi-coloured, hand-painted print and flowing cut, it combines bold style and the self-expressive edge of the brand. It features short ruffled sleeves with a pretty gathered skirt that's flared for added impact. This lined piece includes a bold zip fastening embellished with KENZO branding, a prominent feature in this collection for girls.
Printed leggings
Leggings remain a comfy staple in any girl's wardrobe for a sports-luxe aesthetic and true back-to-basics style. These KENZO KIDS leggings with animal print design feature an elasticated waist for uncompromising movement while still making a statement. They're ideal for kids on the go and work well under KENZO skirts or dresses.
Piqué knit romper
The latest collection includes charming babywear, too. This piqué knit romper is woven from 100% organic cotton for extra softness without compromising on the KENZO aesthetic. The classic tiger logo and sporty polo collar are standout features, inspiring movement and maintaining that urban playful design.
Discover the new KENZO collection and celebrate the colourful cultures and urban styles of KENZO KIDS!